Drug Development and Drug Repurposing
Driven by Human Biology
We rely on natural human genetic variation as a proxy for—and method of more accurately predicting—the physiologic effects of therapies in humans.
We identify variants in drug target genes that recapitulate drug effects and then execute PheWAS to find all phenotypes (diseases) across the human phenome (based on PheWAS codes derived from ICD-9/10 codes and manually grouped to define clinical phenotypes) that are associated with carrying at least one copy of a minor allele.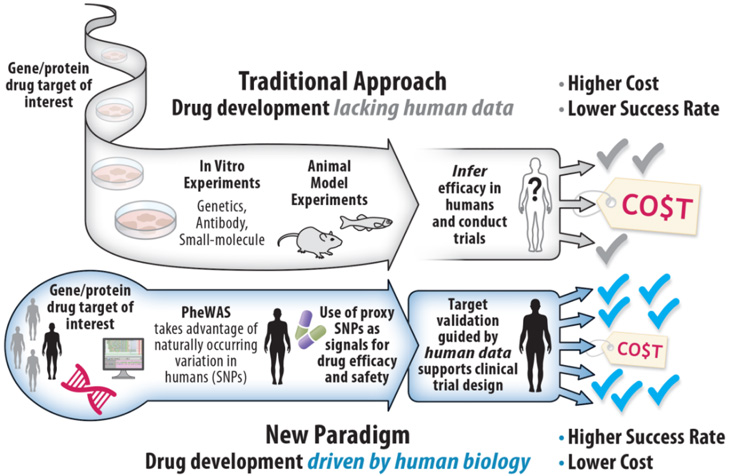 Our team with relevant qualifications and content-specific knowledge perform evidence reviews and curate the results for key associations. We execute comprehensive searches of a wide range of databases and other resources, including thorough review of de-identified patient medical records of associated cases.
Once we establish a preliminary precision indication/subphenotype and a hypothesis about the disease mechanism, appropriate Vanderbilt experts are identified and approached to serve as investigators that will move projects into animal or human validation studies with precise endpoints to confirm the mechanism.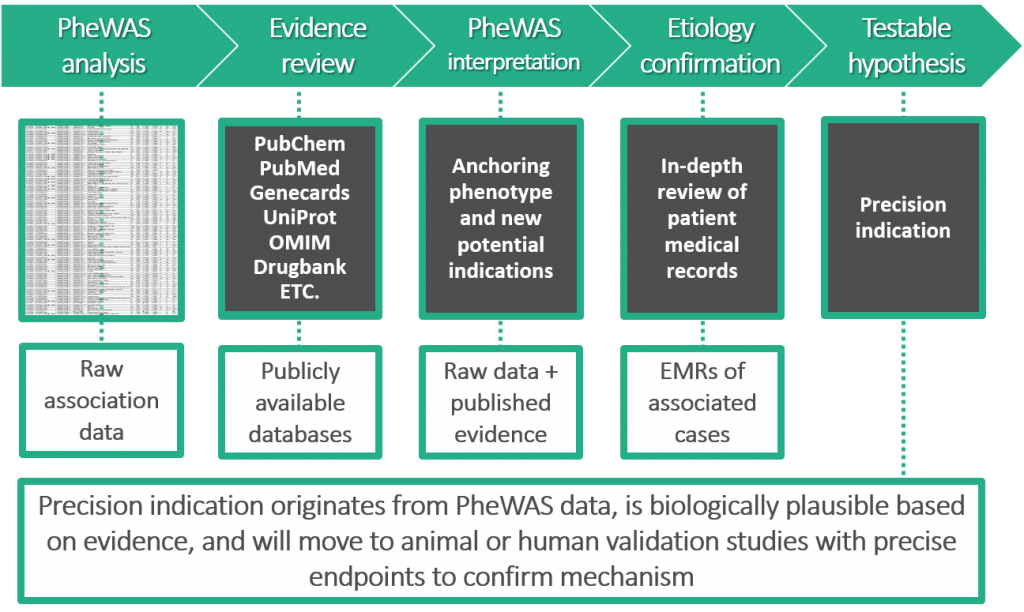 Most of the projects we are pursuing intend to leverage the 505(b)(2) regulatory approval pathway, which allows the sponsor to rely, in part, on existing data from approved drugs. This can eliminate the need for preclinical studies, shorten the overall FDA approval time, and reduce costs.
Once of the goals of our federal funding (CTSA award No. UL1TR000445 from the National Center for Advancing Translational Sciences) is to assess the program's pace of achieving downstream regulatory and commercialization milestones compared to traditional methods.
Some of our portfolio projects have initiated Phase II clinical trials in less than two years since project inception.